The Welsh Housing Equality Network (WHEN) is a network run by housing providers in Wales to share and promote best practice and understanding of equality in the Welsh housing sector. It is free and open to all member organisations of Tai Pawb. Meetings will be held three times per year, and will be held in different locations around Wales.
---
Our next WHEN meeting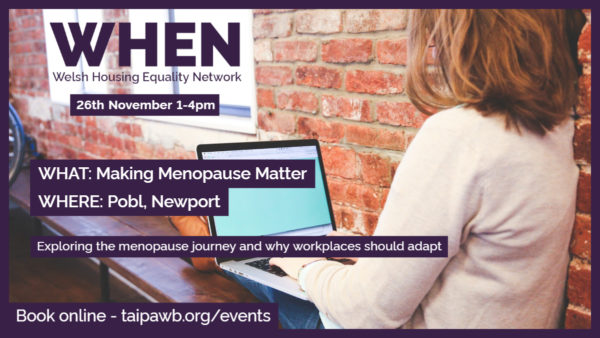 26th November 1-4pm, Pobl, Newport
Theme: Making Menopause Matter
Join us to explore an issue that's gaining more awareness in the workplace. Andrea Penny, Tai Pawb, will share her menopause journey.
Our most recent WHEN meeting
The most recent WHEN meeting took place on the 11th September and discussed equality and diversity good practice and QED.
Policy Update – 10th April 2018 (Members only)
The group also identifies opportunities for wider engagement, improved responses to proposed policy changes and better understanding of equality amongst members.
The Network is chaired by Amanda Attfield (Bron Afon). Tai Pawb provides the secretariat to the Network.
Information
Please see the events section of our website for information on upcoming WHEN Meetings.
For further information on the WHEN network please contact info@taipawb.org or 029 2053 7630.