Mental Health in Housing – Seminar
Full Day Seminar
Media Resource Centre, Llandrindod Wells
Members £80 | Non-members £100
(Not sure if you're a member? Check here)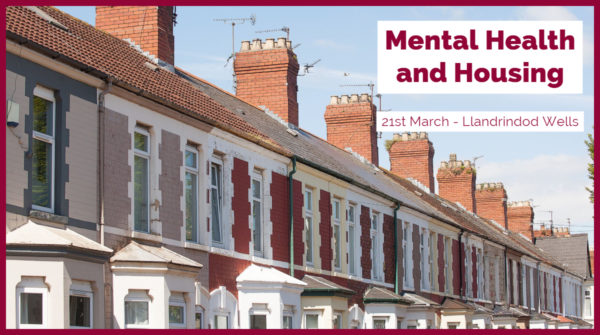 In our last survey, our members told us that preventing and helping to tackle mental ill health issues among their tenants and staff was one of their top priorities. 
The prevalence of mental health problems among the general population and social tenants is increasing. There is also a growing recognition of the changing role of housing staff in how they look to deal with issues of mental health in their day to day work.
At this event we will consider how, in housing, we can change the way we work and live with mental ill health.
Expect to:
gain greater understanding of your role in preventing and tackling mental ill health with particular focus on tenancy sustainability and staff well-being
be inspired by new solutions aimed at preventing mental ill health and tackling organisational barriers
discuss and consider how we can 'up our game' in challenging stigma and facilitating mental well-being
Themes
Tenancy sustainability
Mental health and antisocial behaviour
Private rented sector and mental health support
Compassionate mental health
Staff well-being
Speakers
'Residential Resilience' project – Cheryl Emery, Rhondda Cynon Taf CBC and Katherine Hudd, Merthyr and the Valleys Mind
This pilot project, based in Rhondda Cynon Taf, works closely with the Early Intervention and Prevention project and providers of supported accommodation and hostel provision to support people with mental health conditions. The project provides one to one case work and group support, focusing on individual and community resilience to help prevent ongoing crisis and homelessness.
Learn how the project sought to improve people's wellbeing and ability to deal with mental health issues through therapeutic interventions, including access to psychological therapy.
Tyfu Tai Cymru – Catherine May, CiH Cymru
Tyfu Tai Cymru is a five-year housing policy project which aims to provide insightful analysis and fill evidence gaps to support policy progression. This session will look at their latest report into private renting and mental health, and what more can be done to keep people in their homes.
'Compassionate Mental Health' – Ewan Hilton, Gofal
Gofal believe there is a need for a paradigm shift in the way we understand and respond to emotional distress and 'unusual thoughts or behaviours'. There is an increasing school of thought that an obsession with labelling and diagnosing is hindering the treatment and recovery of those experiencing mental health issues, especially those that relate to trauma and emotional distress. This works against the significant positive work being done in Wales to better understand the impact of Adverse Childhood Experiences (ACEs) and their impact on our lives. This session will look at how we marry the two and how we relate it to housing, housing related support and commissioning practice. We'll also be looking at how we move towards becoming an asset based, trauma informed and healing focused housing sector in Wales.
'Supporting mental well-being in the workplace' – Elaine Gilbert, Pennaf Housing Group
With 70 million workdays lost each year in the UK because of mental health issues, it's vital that the wellbeing of employees is supported in the workplace. The role of housing staff in terms of responding to and preventing mental health issues among tenants is constantly changing and there are new challenges ahead. This session will focus on various practices adopted by Pennaf in responding to mental health issues in the workplace and the positive impact of having support mechanisms in place for employees.
The seminar will also provide an early opportunity to feed into Welsh Government's consultation on its 'Together for Mental Health' delivery plan.
---
Cancellation Policy:
If cancellation is notified to Tai Pawb within 10 working days of the date of the event, the full cost of the event will be incurred;
If cancellation is notified to Tai Pawb within 15 working days of the date of the event, 50% of the cost will be incurred;
If cancellation is notified to Tai Pawb more than 15 working days before the date of the event then no cost will be incurred.
Book online
Upcoming events