Anti-racism & Race Equality
* Available Online
We're very excited to launch our new Anti-racism Training which we have developed with our associate Marilyn Bryan-Jones. This course builds on the awareness raised throughout the Black Lives Matter movement and ties in with our Deeds Not Words pledge to action. 
About the Facilitator – Marilyn Bryan-Jones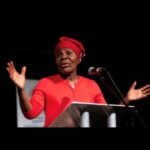 Marilyn has developed this training module in response to the Black Lives Matter movement and the Tai Pawb Deeds Not Words Pledge.
Marilyn has a background in housing at both operational and strategic level and has undertaken many roles in the voluntary and private sector.    Equality and diversity has always been Marilyn's main priority in the workplace. She is passionate about training and believes it is a vehicle in which to effect change in both individuals and organisations.
About the Training
This course will help housing professionals look at race inequality and anti-racism in the context of the Black Lives Matter movement (BLM) in Wales, Britain and globally including its impact on society.
It will identify ways in which racism occurs on a daily basis through systemic discrimination such as microaggressions and institutional racism.
Group discussions and interactive activities will give participants the opportunity to deepen their understanding of issues relating to race.
Course Duration 
Half day introductory course
Full day in-depth course
Target Audience
Housing professionals at all levels who want to increase their understanding of race and racism and take action to improve the situation. This course assumes some prior awareness of racial inequalities (if not then see our E&D for staff training).
Course Aim
To improve knowledge of Anti-racism and Race Equality.
This is not a foundation course but one that has more exploration for participants who want to improve their knowledge and ultimately take positive action.
Information
This course is available for in house bookings, please contact us to find out more.
We're also running open access sessions of this course, click here to find out when the next one is.