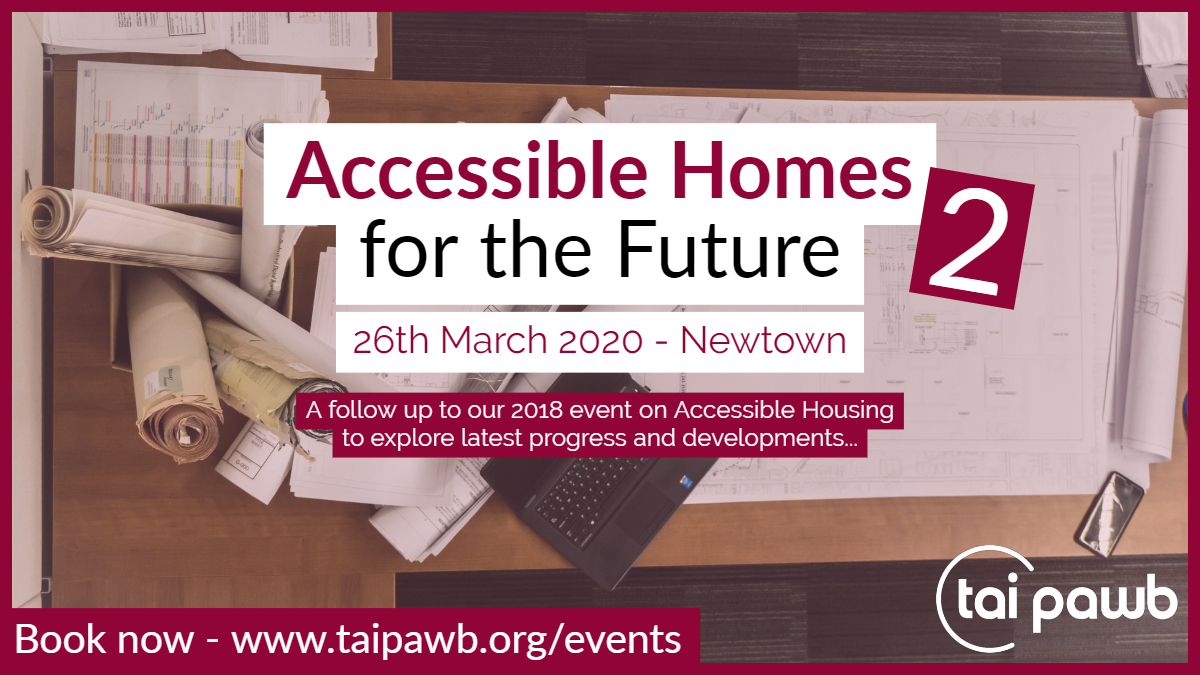 Accessible Homes for the Future: II
Thursday 26 March | Plas Dolerw, Milford Road, Newtown, Powys SY16 2EH
Members £100 | Non-members £125
The availability of accessible and adaptable housing in Wales is at a critical low and is a significant obstacle for many disabled and older people. Having a home that is not just suitable for current needs, but also adaptable for the future, is crucial for health and wellbeing needs, personal independence and general quality of life.
This seminar builds on the fundamental discussion that Tai Pawb began in 2018 on the role of accessible housing in Wales; we return with Accessible Homes for the Future: II to consider progress and explore the challenges as well as the solutions moving forward.
SPEAKERS
Alicja Zalesinska | Director, Tai Pawb will reflect on the progress made in Wales since the publication of EHRC's disability inquiry report, 'Wales hidden crisis'. This session will also explore some of the key challenges as well as opportunities for the future
Simon Prothero and Brian Gould (speaker on housing need TBC) | Welsh Government
Welsh Government officials will update us on progress and plans in policy areas related to accessible housing including:
- developing a more equitable adaptations system
- work on improving the use of evidence of housing need, including disabled and older people's housing need
- housing standards (Development Quality Requirements)
This session will also provide an opportunity for feedback and discussion on future plans
Brian Brown | Director, ARMED and Maria Booth | Area Representative, HAS Technology Group
Brian and Maria will talk about HASTEC's ground-breaking Advanced Risk Modelling for Early Detection technology increasingly used by housing providers in the UK and recently in Wales. ARMED wearable wristbands help predict risk of falling, enabling faster support and better self-management
Sian Howells | Director of New Business and Alex Dawson | Senior Development Officer, Mid Wales Housing
Sian and Alex will talk about Mid Wales' most recent development co-funded through the Welsh Government Innovative Housing Programme: Croft Court. This highly innovative development features 17 apartments, three of which will be fully wheelchair accessible – all built to a highly energy efficient "PassivHaus" standard and harnessing solar power
Neil Williams | Head of Agency Support and Development, Care & Repair Cymru will look at CRC's 'Hospital to a Healthier Home' service, co-located in 13 principal hospitals in Wales and helping to identify opportunities to assist older people with discharge and ongoing arrangements
A full agenda is available here.
Cancellation Policy:
If cancellation is notified to Tai Pawb within 10 working days of the date of the event, the full cost of the event will be incurred;
If cancellation is notified to Tai Pawb within 15 working days of the date of the event, 50% of the cost will be incurred;
If cancellation is notified to Tai Pawb more than 15 working days before the date of the event then no cost will be incurred.
When
March 26th, 2020 10:00 AM through 4:00 PM
Location
Plas Dolerw




Milford Road




Newtown

,

Powys

SY16 2EH
Event Fee(s)
| | |
| --- | --- |
| Member rate | £ 100.00 |
| Non-member rate | £ 125.00 |