Back the Bill – the right to a good home in Wales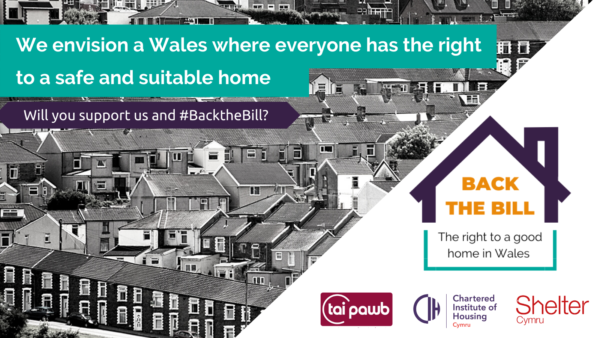 Wales is in the midst of a housing crisis. Demand significantly outstrips supply. Many people are unable to afford homes in their local communities. And, for some, the suitability – and safety – of their home is grossly inadequate. It was the housing crisis that  contributed to the tragic circumstances of the Grenfell fire in North London in 2017, claiming 72 lives. We must put measures in place to avoid this ever happening again.
We believe that at the core of any solution to the housing crisis is a national commitment to the fundamental principle that every one of us should have a human right – underpinned by law – to access adequate and sustainable housing. Our Feasibility Report showed the route map to how to achieve this and the next step of our call is a Draft Bill incorporating Right to Adequate Housing into Welsh law.  
Pledge your support
We ask you to join us in calling for housing to be recognised as a fundamental right in Wales by filling in the form below to become a signatory to the Draft Bill:
Read our full privacy policy here
(this list is updated periodically)
Alicja Zalesinska
CEO, Tai Pawb
Matthew Dicks
Director, CIH Cymru
Ruth Power
Director, Shelter Cymru
John Puzey
Individual
Sophie Howe
Future Generations Commissioner, Wales
Michael Sheen
Actor and activist
Mark Isherwood MS
On behalf of the Welsh Conservatives
Jane Dodds
On behalf of the Welsh Liberal Democrats
Delyth Jewell MS
On behalf of Plaid Cymru
Clare Budden
CEO, Clwyd Alyn
Victoria Slade
CEO, Cynon Taf Community Housing
Ffrancon Williams
CEO, Adra
Paula Kennedy
CEO, Melin Homes
Hayley Selway
CEO, Cardiff Community Housing Assoc.
Jason Wroe
CEO, Newydd Housing
Sian Morgan
CEO, Hafan Cymru
Jas Bains
CEO, Hafod Group
Karen Courts
CEO, Merthyr Tydfil Housing Assoc.
Andrew Bowden
CEO, Cartrefi Conwy
Shan Williams
CEO, Grwp Cynefin
Adrian Burke
CEO, First Choice Housing Assoc.
Scott Sanders
CEO, Linc Cymru
Marcia Sinfeld
CEO, Family Housing Assoc.
Amanda Davies
Group CEO, Pobl
Nick Hampshire
CEO, Ateb
Cerys Furlong
CEO, Chwarae Teg
Helena Kirk
CEO, North Wales Housing
Michelle Reid
CEO, Merthyr Valleys Homes
Luke Takeuchi
CEO, RHA Wales
Lynda Sagona
CEO, United Welsh
Dr Lindsay Cordery-Bruce
CEO, The Wallich
Frances Beecher
CEO, Llamau & Chair, EYHC
Victoria Winckler
Director, Bevan Foundation
Jon Sparkes
CEO, Crisis
Katie Dalton
Director, Cymorth Cymru
Kath Palmer
CEO, Cadwyn
David Wilton
Director, TPAS Cymru
Hugh Russell
End Youth Homelessness Cymru (EYHC)
Catherine Fookes
Director, WEN Wales
Rebecca Woolley
Director, CAB Cymru
Prof Geraldine Van Bueren QC
Queen Mary University of London
Dr Helen Taylor
Cardiff Metropolitan University
Rocio Cifuentes
CEO, EYST
Allison Hulmes
National Director, BASW
Zoe Richards
CEO, Learning Disability Wales
Zoё King
Acting Joint CEO, Diverse Cymru
Owain Hanmer
Education Officer, Undod
Jess McQuail
Director, Just Fair
Dr Pete Mackie
Cardiff University
Judith Bueno de Mesquita
University of Essex
Dr Kolda Casla
University of Essex
Prof. Colin Harvey
Queen's University Belfast
Dr Luke D. Graham
Lecturer in Law, Coventry University
Dr Meghan Campbell
Deputy Director, Oxford Human Rights Hub
Dr Azadeh Chalabi
University of Liverpool
Dr Claire Lougarre
University of Southampton
Kelly Roberts
Together Creating Communities
Sian Summers-Rees
Chief Officer, City of Sanctuary UK
Joy Kent
Independent consultant
Keith Edwards
Independent consultant
Bill Rowlands
Individual
Joy Williams
Individual
Acorn Cardiff
Community union
Miriam Merkova
Individual
Leanne Lewis
Individual
Hannah Mason
Individual
Prof Rory O'Connell
Ulster University
Dave O'Connor
Individual
Katyanne Denby
Individual
Farida Aslam
Individual
Paul Diggory
Individual
Claire White
Individual
Carol Kay
Individual
Hayley Jones
Individual
Joshua Dowdall
Individual
Jonathan Conway
Individual
Hayley Broad
Individual
Natalie Warner
Individual
Gareth Leech
Individual
Faye Patton
Individual
"If not now, then when? If not us, then who?"
Watch former Director of Shelter Cymru John Puzey speaking to Future Generations Commissioner Sophie Howe about the Back the Bill campaign and why it is crucial that a right to adequate housing be enshrined into Welsh Law
Support us on social media