Right to housing backed by key signatories
THE campaign to recognise housing as a fundamental right in Wales has been boosted by the backing of key signatories.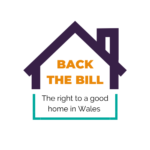 Releasing the names of principal supporters on Human Rights Day (10 December) – including signatories from housing, elected representatives and commissioners, academia, the charity and third sectors – 'Back the Bill' is demonstrating the breadth of support across Wales for introducing legislation. Last week, polling undertaken by CIH Cymru in partnership with Cardiff University showed that 77% of people support a legal right to housing.  A web page has also been launched which enables people to sign up to the campaign and to keep up to date on its latest developments.
'Back the Bill' is a joint campaign run by housing charities Tai Pawb, CIH Cymru and Shelter Cymru following the commissioning of a feasibility study in June 2018 in conjunction with Dr Simon Hoffman of Swansea University. The study provides a roadmap for incorporation of the right to adequate housing into Welsh law and how it could help address some of the key housing issues of the day, including security of tenancy, accessibility, affordability and homelessness. The recently-published Draft Bill sets out how such legislation could be realised, pushing focus and resource into housing and driving a systemic shift in policy approach that would reset the dial on the housing system in Wales.
The call has already been met with support by Plaid Cymru, the Welsh Conservatives and the Welsh Liberal Democrats, each of which have pledged to introduce the right in their manifesto ahead of elections to the Senedd next May.
In her Manifesto for the Future, Future Generations Commissioner, Sophie Howe, calls for Welsh Government to make housing a human right. 
Supporting the call to 'Back the Bill', Ms Howe said: "A legal right to housing is one of the biggest gifts we could give to future generations.

"Affordable, safe, connected, energy-efficient homes help keep people well, and a right to housing in law would help us meet the goals set by our unique Well-being of Future Generations Act, preventing homelessness, lowering the cost of running a home, taking action on the climate emergency and allowing us to plan better for looking after people in old age."
Issuing a joint statement, the directors of the three organisations, Alicja Zalesinska (Tai Pawb), Matt Dicks (CIH Cymru) and Ruth Power (Shelter Cymru), added:
"We believe that everyone should have a human right, underpinned by law, to access adequate and sustainable housing- this fundamental principle is at the core of any solution to the housing crisis in Wales.

"We are pleased to see the campaign going from strength to strength in receiving support from stakeholders across Wales – both inside and outside of the housing sector. It is testament to both the pivotal role of housing in peoples' lives and the appetite for a seismic shift in policy that embeds a rights-based approach in law."
See our list of key signatories
Join us by signing the Bill here
ENDS
Notes for editors:
Tai Pawb promotes equality and social justice in housing in Wales, believing that all people have the right to access good quality housing and homes in cohesive and safe communities. We look to inspire Wales to be a fairer place to live.
CIH Cymru is the representative body for housing professionals working mainly in housing associations, local authority housing teams as well as a growing number in the Private Rented Sector.
Shelter Cymru is Wales' people and homes charity. We work for people in housing need by providing free, independent, expert housing advice and we campaign to overcome the barriers which stand in the way of people in Wales having a decent, secure home.
Back