Social landlords urged to tackle lack of flooring in new-lets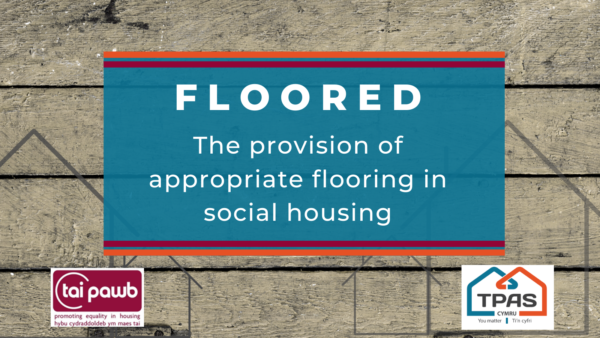 Providers of social housing in Wales are being urged to tackle the lack of flooring provision in newly-let accommodation following new research into its impact on health and wellbeing.
Currently, it is common practice for social landlords to let accommodation without providing furnishings, including carpets or alternative floor coverings.
However, research undertaken jointly by tenant participation organisation, TPAS Cymru and housing equalities charity, Tai Pawb, has uncovered the impact on tenants of living without flooring, in particular on their wellbeing.
The report, 'FLOORED', addresses issues such as a lack of warmth, safety and sound in their homes, health issues including breathing difficulties and depression. Responses from tenants with children highlighted safety issues with hard concrete or wooden flooring – including splinters – and an increase in loneliness and isolation in not feeling able to invite friends to visit.
"[My children] get stressed at hurting themselves all the time. They ask why they can't have friends' round to play. They get very cold and ill in the cold month because they can't get warm, regardless of my leaving the heating on (the house doesn't contain/maintain the heating). Sometimes we have to sleep together to stay warm on cold/windy nights (which is awkward for my 6-year-old boy as he suffers from SPD and needs his space and alone time for his body/head rocking). My daughter gets very sad and cried regularly during the colder months. They hate standing on slugs and snails and spiders and even mice that come through the big gaps from outside/underneath" – tenant quote
Tenants who were surveyed as part of the research also reported that the cost of purchasing suitable flooring was prohibitive and linked largely to low income or a lack of available funds. Moreover, a third of tenants said flooring was provided in their prospective property when they viewed it but, prior to occupation, it had been removed. In many cases, the tenant had earlier requested that the flooring remain.
Key findings from the responses from landlords found that social housing – other than non-slip flooring in kitchens and bathrooms – rarely has any flooring or carpeting fitted when new-lets are taken up. In addition, few providers offer flooring to tenants as standard practice unless a need is identified by an occupational therapy assessment or another process identifying vulnerability.
However, the survey also identified multiple good practice, including social landlords leaving existing flooring in place where safe and possible through agreements with new tenants. In addition, some social landlords were working with organisations to help tenants secure safe and affordable flooring options. Several landlords also provide flooring in their new homes as standard practice.
The report contains 10 recommendations for social landlords and Welsh Government, including:
Considering using community funds or internal budgets to provide grants to tenants who are unable to afford flooring or carpets, in particular those at higher risk of fuel poverty
Adding provision of flooring to the supplementary terms of the Renting Homes (Wales) Act, 2016 contracts.
A review of Welsh Housing Quality Standard to include appropriate flooring
Review of the terms of the Discretionary Assistance Fund (DAF) and other crisis funds to include provision of appropriate flooring
Introduction of national void standard to provide tenants with a choice of keeping previous carpet/floor.
Providing new tenants with a disclaimer whereby existing flooring and furniture in new-lets can be retained where appropriate and safe to do so
Working with organisations that use low-cost, re-used/second-life flooring options, such as social enterprise, Greenstream Flooring CIC
As a starting point, considering flooring for the most vulnerable, for example Housing First schemes
Looking at best practice in providing flooring options in new-lets and replicating it across Wales
Considering how to move towards providing carpets/appropriate flooring in all new lets, following the example of some housing associations in Wales.
Elizabeth Taylor, Policy & Engagement Officer at TPAS Cymru, said:
"Social housing aims to provide safe and affordable homes for people on low incomes, yet standard practice is to hand over homes with concrete floors and problematic floorboards.

This often leads to people on low income being driven to take out high interest loans to cover the costs on something as basic as flooring; something that most of us take for granted. Why are we pushing the most vulnerable people and families into poverty the moment their tenancy begins and then wondering why they are in rent arrears?

The housing sector is in a unique position to make a real difference to people's lives through persisting with the vision that social housing is a way of tackling inequality. When we provide homes with no flooring, I believe we are abandoning that vision.

Thank you to the tenants and landlords who have donated their time and supported the development of this important research. This report provides the guidance to enable positive change. We look forward to working with partners to implement the recommendations".
Director of Tai Pawb, Alicja Zalesinska, added:
"Most of us will take for granted the provision of flooring or carpets but for many tenants in social housing in Wales, that isn't the case. The report highlights some of the key issues tenants face, including an impact on the warmth of the property, their sense of safety and mental health.

"It's also clear that a lack of flooring has a greater impact on those from a low income background or with existing health conditions that can be exacerbated, such as asthma.

"We were encouraged by the overwhelmingly positive response from social landlords who were keen to tackle this issue. This report provides a clear pathway, through its recommendations, for providers to work together with key partners to help put provision in place in order that tenants can feel safe, secure and warm in their accommodation".
The report's recommendations will be considered as part of a forum with social housing providers later in November.
VIEW THE REPORT:
English executive summary here
Welsh executive summary here
English full report here
Welsh full report here
Back