QED is more than just a prestigious quality mark for the Welsh housing sector.
The QED award is a quality mark for the Welsh housing sector and provides a comprehensive, Wales specific framework for reviewing, improving and transforming the equality and diversity impact of your organisation across:
governance, services, access, involvement & culture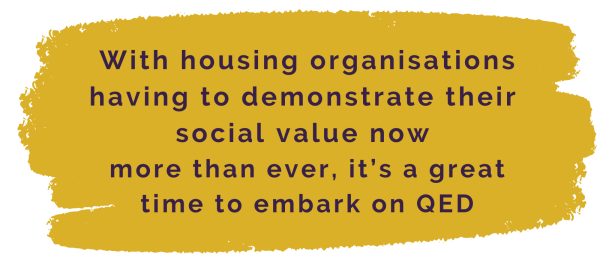 We have fine tuned our 'virtual' expertise of running training, meetings and consultancy to provide a remote QED programme which still offers the same dedicated support and service from Tai Pawb.
In a nutshell
We fully induct your staff; conduct staff and stakeholder surveys; hold online focus groups and interviews with staff, board members and tenants; and carry out a comprehensive desktop review.
We analyse this information to conduct a thorough assessment on current practices within your organisation. We then work with you to co-create an action plan to address gaps with our dedicated support over several months.
At the end of this period an independent QED panel will review your progress and make a decision whether the QED Standard has been achieved.  The Award is then held for three years, which we review annually.
The Benefits
The benefits start as soon as you start your QED journey, not just when you achieve it!
Gain a clear understanding of where your organisation is now
Have a clear understanding of what 'good' looks like

Have a framework to embed equality and diversity into your organisation

Improve the experience of diverse tenants, customers and staff

Have a clear framework and plan for continuous improvement

Show that your organisation is one that is committed to improving equality, diversity and inclusion in the workplace

Have evidence that your organisation complies with regulatory requirements
And so many more!  You can check out more of the QED Impacts here 
But don't take our word for it, watch this video from 2020 of Chief Executives sharing their personal QED impact experience.

The Process
The QED process is broken into two stages.
Stage 1 consists of:
Staff and stakeholder survey
Desktop audit
Qualitative assessment – 121s and focus groups
Assessment and report
Action plan
Stage 1 takes approximately twelve weeks to complete. After this, we recommend around 6 months to work through the action plan and undertake the activities identified.
Stage 2 starts once the agreed action plan has been completed and it consists of:
A progress visit
A recommendation report
A final decision by the QED panel
On successful completion of the process you will retain the award status for three years.
In 2020 we made the following video for a tenants conference to explain the QED process and benefits
Tempted?
Please contact: info@taipawb.org / 029 21 057957