Previous Events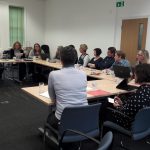 We provide a range of different events including quarterly Welsh Housing Equality Networks, Policy & Practice briefings as well as regular online forums. Have a look at our previous events and make sure you sign up to our mailing list to ensure you're up to date with our latest events!
Policy and Influencing
Prof. Emmanuel Ogbonna 
Cardiff University & Chair of Wales' Black, Asian and Minority Ethnic Covid-19 Advisory Group
Reflected on the racism and Covid-19 report he produced for Welsh Government in 2020 which highlighted significant disparities in healthcare, jobs, income and housing and has fed into Welsh Government's Race Equality Action Plan. Professor Ogbonna also shared how we can create an anti-racist Wales by taking initiative to lead anti-racist organisations by addressing the structures and processes which perpetuate racism.
Amelia John 
Welsh Government 
Shared the latest updates on the Race Equality Action Plan and how Welsh Government has responded to the feedback received. There have been changes made in the wording and ensuring actions are clear, increasing the intersectionality of the report, making a clearer link to poverty, and including a larger focus on Refugees and Asylum Seekers. New regulatory frameworks issued to social landlords work in harmony with the plan to increase equality, diversity and inclusion and the Race Equality Action Plan is expected to be published in Spring 2022. 
Helen White and Abdi Segulle 
Taff Housing 
They were here to talk about the Board Academy Project where five South-Wales based housing associations have grouped together to nurture a pipeline of diverse talent for future board vacancies. The project takes a hard look at the barriers to diversity in boards and aims to mentor and prepare future board members to enhance their skillset.
Reehana Joiya
Platfform
Shared some of the progress Platfform has made in being anti-racist since signing up to our Deeds Not Words pledge to action in 2020. This includes an important focus on internal education and awareness raising via workshops and focus groups to improve their service delivery, all underpinned by their action plan. Reehana's recent blog provides more information on the action they've taken and is also available in Punjabi and Urdu.
Nazia Azad-Warren
Cadwyn Housing Association
Highlighted how engagement processes need to be representative of the people we're engaging with. She also reflected on some of the barriers to engagement and how less engagement is disproportionate in those from a non-white background. Nazia explained how the emphasis should be on organisations being the ones to reach out not the other way round and trying to make that engagement process as accessible to all as possible.
Clare Hollinshead
Tai Pawb, on behalf of the Comic Relief Partnership
Tai Pawb has teamed up with Oasis Refugee Centre to increase move—on accommodation for Refugees via private, public and social landlords. Clare shared the project's aims and emphasised the project's focus on lived experience to provide a holistic service. There was also a call to action for housing associations to offer housing to provide safe and secure accommodation for those seeking sanctuary in Wales. If this is something your organisation can help with then get in touch!
Marilyn Bryan-Jones
Deeds Not Words Panel
Holding member organisations true to their pledge, the Deeds Not Words panel is a fundamental element of our anti-racism work. Marilyn – also an associate trainer at Tai Pawb – reflected on the work of the panel to date and highlighted the need for everyone to raise awareness of the pledge and the role that staff members can play in taking it forward.
In March we held a session with Newfields Law a law firm specialising in immigration who are helping with EUSS applications on behalf of Welsh Government. This session discussed who needs to apply for the scheme, the application process and ways that organisations can provide support to tenants and service users.
Welsh Housing Equality Network
Our first digital WHEN we were joined by Rocio Cifuentes CEO of EYST to discuss the death of George Floyd and the Black Lives Matter movement and the implications of racial inequality in Wales. Our Director Alicja Zalesinska also discussed the implications of racial inequality in housing and launched our Deeds Not Words pledge to action which you can find out more about here.
View the recording here
We were joined by Hugh Russell Project Manager at End Youth Homelessness Cymru (part of Llamau) to discuss the challenges LGBTQ+ young people face and ways organisations can engage and provide support
We were also joined by Helen Bevan-Jones from Bron Afon Housing Association and Colin Heyman, an equality and diversity specialist and trainer to discuss their Diversity Champions programme at Bron Afon
We also presented Merthyr Valleys Housing Association with their QED accreditation and gave an update on our Deeds Not Words pledge to action
You can view the event recording here 
You can view the Good Practice Briefing here 
Back the Bill
View the event recording here