20190813
Hydrocarbons to Housing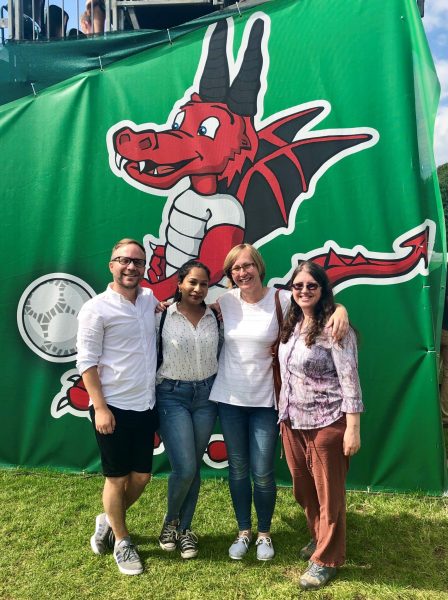 What's a Biochemistry Undergrad Doing in Tai Pawb This Summer?
Hello, my name is Tracey. In my term-time life, I'm a Biochemistry undergrad at the University of Liverpool. So why on earth am I doing a summer placement at Tai Pawb, a membership organisation that promotes equality and diversity in the housing sector?
Getting good science embedded into public policy is one of the biggest challenges of the 21st century. From climate change to antibiotic resistance, science may describe the problem, but policymakers must enact the solutions. I knew from friends who work in the sector that housing is really rather good at this side of things. Not only is the sector packed full of people who are incredibly passionate about finding out what works, they are able to make policymakers sit up and take notice. I hoped to be able to take lessons learned in the housing sector back to my science studies with me, but would those lessons translate across the sectors?
Science and housing seem so different. In science, everything you study in the lab is (hopefully!) controlled, measured and standardised, but it's not so easy to do that in housing, when your focus is on real people's everyday lives. And you're certainly not allowed to experimentally take people's lives apart to find out how they work. Nonetheless, science and housing face many of the same challenges and opportunities – and the same skills and values allow people to rise to those challenges, and make the most of those opportunities.
They both believe in strength through diversity
From the Athena Swan award to Tai Pawb's QED award in housing, both sectors recognise that innovation is more likely when diverging perspectives and different life experiences are brought together. My perception – maybe coloured by working alongside an incredible bunch of people who practice what they preach – is that housing is further along than STEM, especially in board diversity where many housing associations have already achieved gender balance and are working towards increasing diversity in other areas. However, the independent review of Athena SWAN is considering adding other protected characteristics to its requirements so clearly there's a will to make further progress.
"Big Data" Challenges
Recent feedback from Tai Pawb's members indicated that although lots of data is being collected on the diversity of their engagement groups and boards, it's not always clear what best to do with it – or indeed, whether proposed use of it is allowed within the protections of GDPR and ethics. This has many parallels with emerging issues of DNA collection and research in science.
At what point does our data cease to be "ours"?
The public find it easier to understand the need for projects that treat visible, existing problems than projects that prevent or put a different focus on problems
I joined Tai Pawb at a really exciting time. My first event was the launch of a joint campaign to make housing a human right in Wales. I felt the event was a masterclass in policy communication, with a really detailed, academic report summarised for policy makers in such elegantly simple terms that even with no prior knowledge of the housing sector whatsoever, I was able to follow it. The beautiful surroundings of The Pierhead gave a real sense of history to the event, and Tai Pawb were delighted by the warm words of the Minister, Julie James AM, who welcomed the report and looked forward to exploring the issues in more detail.
I was also lucky enough to be at Tai Pawb while Cardiff were hosting the Homeless World Cup. It was an absolutely spectacular event with a whole week of positive coverage on TV that really challenged negative stereotypes of people experiencing homelessness.
I described both of these events to friends and family, and noticed a difference in how they were received. The Homeless World Cup was an easy "sell" – the campaign to make housing a human right enshrined in law, considerably less so. It reminded me of the different responses I get when talking about different modules in my degree. When I'm studying the mechanism of a disease like cancer and talking about potential new treatments, there's a lot of enthusiasm (except from the squeamish). But when I talk about "lifestyle" diseases, and the effectiveness of information campaigns in changing diets, eyes start glazing over and the subject is changed. Both information campaigns and new treatments can save lives, and both the Homeless World Cup and the Housing as a Human Right campaign can impact homelessness.
How do we communicate these less immediately emotionally appealing ideas to the public?
It's about making people's lives better
In the face of such challenges, it's easy to feel disheartened. I strongly believe, however, that both sectors have the qualities that will allow these battles to be won. Both sectors are filled with skilled and passionate people who get up every morning and do what they do, with the unshakable conviction that it is going to help make somebody's life better. Whether that's putting the systems in place to make sure a vulnerable person keeps the roof over their head, working to protect the fragile biodiversity of our beautiful planet, giving a route back to housing to someone who's been long-term homeless, or an exciting bit of chemistry that might lead to a new treatment, professionals get excited about their work and support their colleagues.
It's been an absolute privilege to be part of the Tai Pawb team, and I can't wait to see what they're going to do next.
Back