Refugee Week 2021: Reflecting on the past and regrouping for the future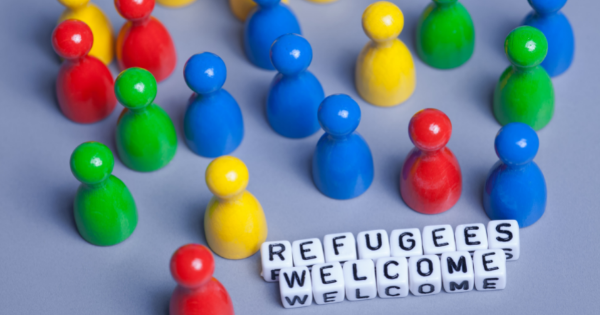 As Refugee Week draws to a close, our Funding and Partnerships Manager, Rob Milligan, reflects on the changing landscape of support for Asylum Seekers and Refugees in Wales.
I have A LOT of stories from the time I spent working in homelessness services. There's a lot that I've forgotten. And there are some things that I will never forget. The destitution and the lack of support for Refugees and Asylum Seekers facing homelessness is one of those things. Over the years I came to know people in such dire circumstances with so little hope that I would never have thought possible in the UK. 
 In one case, someone I had been supporting for years, denied the right to work or benefits, was sanctioned for working informally. He was a proud man just looking to make his way, he volunteered every day and supported his peers to volunteer too, he inspired people to act and think more positively. He held his head high whilst he had to endure the hostile policies of Home Office; afraid to seek medical assistance when he was ill; unable to open a UK bank account; living in night shelters and had regular stints to detention centres. After living here for 18 years he was given no hope to regularise his status and was forced to leave his friends and network here in the UK. After a particularly long stint in detention he took assisted voluntary return to a country of origin he had fled as a child, where he had no friends or family and little in the way of state support.  
In another case, I saw a scholar who was managing a degenerative motor-neurone disease – forced to live in poverty with no right to work or claim benefits. He had not seen his children in 15 years as they were denied to join him in the UK. He was unable to leave the UK due to the lack of access to life-preserving medication in his country of origin. Despite this he was approached by the Home Office to sign assisted voluntary return agreements, a death sentence; deportation was consistently dangled above his head as a sword of Damocles. With no hope to regularise his status and no option to leave, he still lives in limbo and poverty. 
In both cases, the support needs of the people involved were perpetuated by the hostile environment. Finding and maintaining shelter was their prime objective, living day to day, hand to mouth. For someone living in this situation there is no opportunity to unpick the complex trauma that led them to flee their country of origin and the trauma sustained through a treacherous journey to the UK.  
Fast forward to April 2020 when I joined Tai Pawb. Upon joining I picked up Joy Kent and Tai Pawb's feasibility study into Refugee Housing and Support. I was gripped by what I read – the report highlights the challenges faced by Refugees who are granted to stay in the UK. They are given just 28 days to vacate their Home Office-provided accommodation. This is just not enough time to arrange sustainable move-on accommodation in the private rented sector in Wales, especially when you are waiting for an NI number to start work and a five week wait to claim Universal Credit. But the report also highlights projects that are working innovatively to tackle this issue and that of destitution in Asylum Seekers. In many places across England there are innovative Refugee housing schemes with accommodation provision for both Refugees and Asylum Seekers, with access to support and advocacy. The report makes recommendations for a pilot project in Wales. Naturally, I jumped at the chance to take these recommendations forward.  
Over the last year we have come on leaps and bounds towards realising the recommendations in the report. I have been struck by the amazing work of Refugee support organisations in Wales. Some are already providing accommodation for people facing destitution, some are providing legal and advocacy support, some are providing day centre services and activities like English classes and employability training.  
I have also been struck by the amazing work of the Welsh Refugee Coalition and the Nation of Sanctuary Plan. Clear strides are being made towards integration and involvement, and towards unlocking social capital and employability which importantly shortens the time it takes for Refugees to utilise their skills and to contribute to Welsh society/economy. And I have been heartened by Welsh Government and MS ministers' counter-narrative to the Home Office hostile environment policies controlled by Westminster.  
During the last year I have been able to get to know the staff at The Gap in Newport. I have written a briefing regarding the amazing achievements that they have had in launching a supported accommodation scheme for Refugees and Asylum Seekers. Having moved their first tenant in at Christmas time they are already seeing positive move-ons, and subsidising a room for people with no resource to public funds (NRPF). Tai Pawb has been able to support the process and will continue to help whenever required. Key partners in the project were POBL housing association, which was able to release housing stock for use in the project and supported the development with in-kind services. As well as this, The Gap has developed a training and awareness course for housing providers who are supporting Refugees and Tai Pawb is helping get this out to the housing sector. The course is hard-hitting, it focuses on why people become Refugees, the impact of leaving home and the asylum process. It also touches on barriers to integration that Refugees can face. It does all this through a trauma-informed lens. 
Over the last year I have been able to work closely with Housing Justice Cymru (HJC) and The Wallich to bring together workstreams that help to address homelessness and destitution among Refugees, Asylum Seekers and people with NRPF. Housing Justice Cymru is working hard to support the Asylum Seeker hosting provision in Wales and to recruit and support new hosts and add bedspaces. This flexible option is essential for Asylum Seekers who are 'hidden homeless' and slipping through the cracks of homelessness provision. There are already some amazing schemes doing this in Wales and Housing Justice has a highly successful project in London. HJC will bring resource and volunteers to the table to increase options for people facing destitution. The Wallich is working to map the options faced by people who have NRPF in Wales. They are developing tailored employment, accommodation and financial support offers for people with the right to work but no access to benefits, giving them a leg up and back into stable jobs and accommodation.  
Most recently, Tai Pawb has developed a partnership with Oasis Refugee Centre in Cardiff with a key aim of increasing the move-on accommodation provision for Refugees (as recommended by the Tai Pawb feasibility study and based on learning from The Gap in Newport). Together, Oasis and Tai Pawb plan to work with the private rented sector, local authorities and housing providers (who committed to releasing housing stock for use in housing Refugees and Asylum Seekers as part of the Deeds Not Words pledge) in Cardiff to secure accommodation and manage a supported housing scheme that can easily be replicated in other dispersal areas across Wales. We will continue to support The Gap and evaluate both projects to ensure good practice and learning is fed back to the housing and Refugee sector. As a wider partnership led by HJC, we have been funded by Comic Relief to take this work forward. Welsh Refugee Council has also come on board to provide advocacy and advice for people being supported across the partnership. 
It really is an exciting time – but more can always be done. Covid-19 has exacerbated issues of overcrowding in Asylum Seeker accommodation and Home Office policy takes little regard for the need to socially distance. A pause in Home Office asylum decisions during the pandemic has given us the breathing room to make these plans for services but as asylum decisions recommence, demand for move-on and emergency accommodation is increasing. With a potential for more local authorities to be dispersal areas and with Refugees being housed in often unsuitable private rented sector accommodation, we need to raise awareness of the barriers to accommodation for landlords in both the private and social sector. 
The pandemic and associated lockdowns have really taught us the value of our homes. We therefore need to ask ourselves what homes are being offered to people fleeing war, torture and persecution in Wales. 
Back